You Are the Apple of My Eye (Chinese: 那些年,我們一起追的女孩, literally "Those Years, The Girl We Chased Together") is a 2011 Taiwanese Romance film. It is based on the semi-autobiographical novel of the same name by Taiwanese author
Giddens Ko
, who also made his directorial debut with the film. The film stars
Ko Chen-tung
as Ko Ching-teng, a prankster and a mischievous student who eventually becomes a writer.
Michelle Chen
stars as Shen Chia-yi, an honor student who is very popular amongst the boys in her class.
You Are the Apple of My Eye was filmed almost entirely on location in Changhua County, including at the high school which Giddens attended. The lyrics of "Those Years", the film's main theme, were written by Giddens. The song, which was well received by the public, was nominated for Best Original Film Song at the 48th Golden Horse Awards. The film's world premiere was at the 13th Taipei Film Festival on 25 June 2011, and it was subsequently released in Taiwanese cinemas on 19 August. Well received by film critics, the movie set box-office records in Taiwan, Hong Kong, and Singapore. Ko Chen-tung won the Best Newcomer award at the Golden Horse Awards for his role in the film.
Watch Online
Subtitle Link
Download Link
Via Google Share
Via Terafile
Via Mediafire
If there are broken links or other troubles, feel free to tell me by leaving your comment.
Info
Directed by
:
Giddens Ko
Produced by
: Angie Chai, Adam Tsui
Written by
:
Giddens Ko
Based on
: You Are the Apple of My Eye by
Giddens
Starring
:
Ko Chen-tung
,
Michelle Chen
Music by
: Sony Music Taiwan
Cinematography
: Chou Yi-hsien
Production company
: Star Ritz Productions Co.
Distributed by
:
20th Century Fox
Release dates
: June 25, 2011 (
Taipei Film Festival
), August 19, 2011 (
Taiwan)
Running time
: 110 minutes
Country
:
Taiwan)
Language
:
Standard Chinese
Cast
Ko Chen-tung

as Ko Ching-teng(nicknamed "Ko-teng"), a mischievous schoolboy who later becomes a writer (Ko Ching-teng is the real name of the director, Giddens).

Michelle Chen as Shen Chia-yi, an outgoing student who consistently scores well in tests. Although she disdains boys less intelligent than herself, she decides to help Ching-teng improve his grades. In the process, she falls in love with him.
Owodog as Tsao Kuo-sheng (nicknamed "Lao Tsao"), one of Ching-teng's friends. He had a crush on Chia-yi, and once asked Ching-teng to deliver a love letter he had written for her.
Steven Hao as Hsieh Ming-ho (nicknamed "A-he"), one of Ching-teng's friends. He loves to eat, and is the butt of his friends' jokes due to this. He is the only person in the group who has dated Chia-yi.
Tsai Chang-hsien as Liao Ying-hung, one of Ching-teng's best friends. He likes to crack jokes and perform magic tricks, and later becomes a librarian.
Yen Sheng-yu as Hsu Bo-chun (nicknamed "Boner"), one of Ching-teng's friends.
Wan Wan as Hu Chia-wei, Chia-yi's best friend. She likes to draw pictures, and after graduating from school becomes a manga artist known as "The Queen of Blogs" (部落格天后).
Plot Summary
The story begins in 1994. An outstanding student, Shen Chia-yi is popular among her teachers and classmates. Ko Ching-teng, mischievous and a poor student, claims that he has no interest in her, despite being her classmate since junior high school. One day, Ching-teng is caught masturbating during class, and the principal reseats him, placing him in front of Chia-yi.

One day, Chia-yi forgets her English textbook. Ching-teng slips her his own book and tells their teacher he forgot his own textbook; he then endures a long lecture and is punished. Chia-yi, touched by Ching-teng's generosity, prepares a practice exam for him in return, to encourage him to study. She also convinces him to stay after school to study with her. Their relationship grows, and Ching-teng's grades gradually improve.

On graduation, Ching-teng enrolls at the National Chiao Tung University. Chia-Yi, who did not do well on the admission exam because she was ill on that day, only manages to enter the National Taipei University of Education with her mediocre test results. Depressed and upset, she is consoled by Ching-teng, who calls her long-distance almost every night from university. During the winter holiday season that year, the two go on their first "date", during which Ching-teng asks Chia-yi if she loves him. However, fearing she would say no, he decides that he would rather not hear her answer. Ching-teng later organizes a fight night and invites Chia-yi to watch, hoping to impress her with his "strength". On the contrary, Chia-yi finds it childish for Ching-teng to injure himself for no reason. This upsets Ching-teng, sparking a quarrel that causes the two to break up.

During the two years after their breakup, Ching-teng has no contact with Chia-yi. He qualifies for a graduate research course at Tunghai University, where he begins writing stories online. Ching-teng only regains contact with Chia-yi after the 921 earthquake, when he calls to see if she is okay. During their long conversation with each other, they both lament the fact that they were not fated to become a couple.

Years later, in 2005, Chia-yi suddenly calls Ching-teng to tell him that she is getting married. All of her old friends gather at the wedding, making jokes and trying to embarrass her somewhat-older husband. They are surprised that their past emotions have transformed into deep friendship and serenity. Ching-teng begins to work on a web novel about his experiences with Chia-yi.
Source: Wikipedia
Screenshot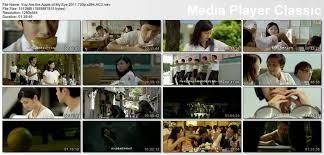 Trailer
If there are broken links or other troubles, feel free to tell me by leaving your comment.
Afanevil
Free Download and Streaming You Are The Apple of My Eye Online